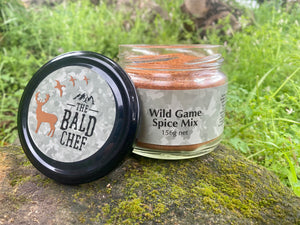 Wild Game Spice Blend
Sale price Price $13.00 Regular price
The Bald Chef's Wild game mix, is a flavorsome blend of smoky, rich spices. Intended for but not exclusive to wild game meats will add a new depth of flavor to your meats and veggies, enhancing elements of sweetness and as well as smoky BBQ.
Perfect for meats as a wet rub with; Olive oil, vinegar and soy sauce. Can be added to Venison, schnitzel (with breadcrumbs), steak. As a seasoning on beaked potatoes
Indulge 
Vegan, Nut Free, Gluten Free, No preservatives, No Artificial Colours 

Ingredients: Cumin, onion, garlic, smoked paprika, fennel, salt.    
Wild game spice blend
Great product, used on venison and was delicious.
Promt delivery and great service as always.
Thanks team.
Dano_hutz
Absolutely unreal stuff , couldn't believe how good this stuff smells and tastes
My new favourite spice
Can not recommend this spice more! It has so much flavour I add it to absolutely everything and I can't get enough!!