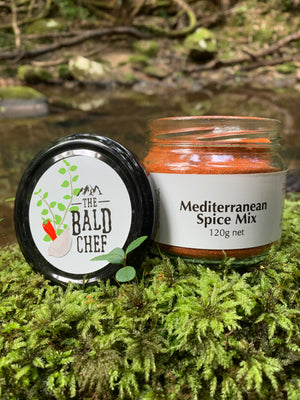 Mediterranean Spice Blend
Sale price Price $13.00 Regular price
The Mediterranean Spice is a rich and flavourful blend. The flavour offers a beautiful, warm mix of spices without the heat, making it a perfect allrounder for both adults and the kids at family dinner and/or BBQs.
This tasty spice mix is best used as a wet rub with olive oil, lemon and vinegar on meats such as chicken, baked vegetables. Also delicious as a seasoning for breakfast cook up such as avo or/and eggs on toast. 
Indulge
Vegan, Nut Free, Gluten Free, No preservatives, No Artificial Colours 
Ingredients: Paprika, pepper, garlic powder, salt, dried coriander, oregano  
Outstanding service and spices
Our order was delivered sooner than expected, carefully wrapped and with a personal note… what amazing service!
Knives
Purchased a set of fishing knives off the Bald Chef- what great knives, made in the USA, super sharp and very durable. Only knives you need to buy!
Amazing Spice
I use this spice on everything, Chicken, Beef, Lamb, Veggies and more. Do yourself a favour and buy 2 as one won't last long :)
Perfect Bbq spice
Use this spice for when reverse searing my steaks, adds a beautiful flavour to the crusty seared steak
Fantastic!
This is the perfect spice to add to any meal! The flavours in this are phenomenal and is now used in almost every dish we make!