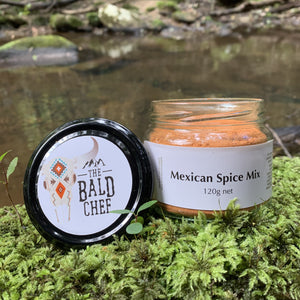 Mexican Spice Blend
Sale price Price $13.00 Regular price
The Mexican Spice mix is a mildly spicy and flavourful blend that encapsulates the traditional flavours of Mexico.
This mild and zingy seasoning is perfect for adding to tacos, bean mix, beef mince, baked vegetables and baked chicken. 
Indulge
Vegan, Nut Free, Gluten Free, No preservatives, No Artificial colours
Ingredient: Paprika, chilli, cumin, dried coriander, salt, pepper. 
Cook
The Bald chef has beautiful products
Fully usable spices and the chilli sauce works on anything
Friendly service with fast delivery
So versatile
The kids and i love our mexican dishes and this spice is great to have on hand to make those tasty dishes.
We just love it
We use this all the time. Great for a variety of dishes we make.
Spice with a nice Kick
Mexican Spice blend has a nice kick to it.
If you like your food spicy you will LOVE this spice.
Best spices
Been using the Mexican spice on my fish and venison and it's sensational!